Every week we bring you a brief 15 minute video and the links of the best articles in Local Search.
If you have a special topic you would like us to discuss for our other weekly feature, the Deep Dive in Local, or if you would like to be on one or the other of our segments, reach out and send us the topic and your availability. If you are interested in sponsoring this weekly show also please let us know.
Last Week in Local is now available as a podcast. Sign up here for your regular 15 minute Local Fix. What better way to spend your drive time?
Online to offline play where users can order on line and pick up in the store… allows Walmart to sell many more items, reduce shipping costs AND get a second crack at the customer as they go into the store. This upgrade will put them in front of 40% of the US population.
Clearly an arrow in the coming battle with Amazon.
---
The report finds that the vast majority of these small businesses are doing their own marketing in-house. In the majority (64 percent) of cases, the business owner is doing all the marketing himself or herself (which generally means poor execution). Only 3 percent of these survey respondents were using an outside agency or vendor; only 7 percent had a dedicated marketing person on staff.
---
---
---
We have big news for Local Guides: Now, your reviews on Google Maps are worth twice as many points! That means you'll get 10 Local Guides points for
---
There was an interesting article on CBC Canada this past week and it encapsulates the range of problems that Google has not yet confronted in the review space- including but not limited to buying reviews, negative SEO reviews, review pile ons etc etc etc.: Kensington Market restaurant inundated with hundreds of 5-star
---
---
The Expert's Guide to Local SEO Updates – March 2018 – Local University
Source:

localu.org

Lots of new content including but by no means limited to the impact of the March algo update impact on local search.
---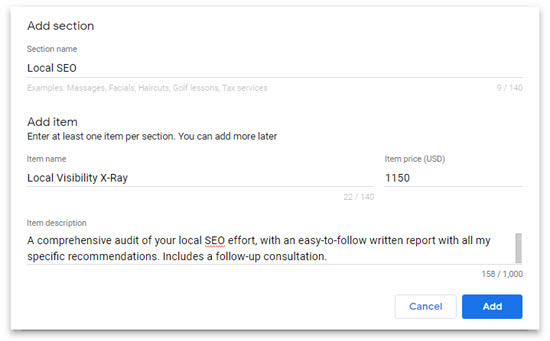 As Google expands the Knowledge Panel, this become a new tab for the Business to populate.
---
Dave Davies discussed a patent on related "entities" that follows up on our discussion with Cindy Krum on last week's Deep Dive about thinking of businesses as entities. He talks about entity authority:
• Think of it as PageRank for entities, even though there's no green bar to tell you when you're on the right track…
• This patent gives us some idea of how to strengthen the association of our site or brand with specific terms and entities.The idea that we can push our rankings forward through entity associations, and not just links, is incredibly powerful and versatile
---
"Presentation layer doesn't sufficiently describe Google's ambitions. They want to be the transaction layer of the Internet—at least in local," David Mihm tells Mike Blumenthal in their latest biweekly column.
---
Have an office in any city. Heck, every city in your territory Don't let cost prohibit you from owning a franchise. Incredible fast paced opportunity for expansion. Find unlimited potential in new(ish) and fast growing lead generation space. Very low initial costs.
True? Not far from it. Join Mike as he exposes some spam tactics in the Garage Door segment.
---
An interesting rant from Dan Leibson on how Google needs to inject more humans into the machine learning process.
---
Brand engagement with Google Q & A would not just provide authoritative answers to consumers who are looking to do business with brands but would also demonstrate a level of brand concern that could provide a competitive advantage.
---
Mike Blumenthal joins MozPod with host Brian Childs to chat about the new Question and Answers Feature in Google Local listings. Mike reviews some of the analysis he has done on Q&A users by industry vertical, the opportunities and shortcomings of this feature, and how businesses can get ahead using his framework. Q&A appears to provide a great opportunity for agencies to provide value to their clients.