Every week we bring you a brief 15 minute video and the links of the best articles in Local Search. OK. It's not always 15 minutes but we are never off by more than 10 minutes or so.
Last Week in Local is now available as a podcast. Sign up here for your regular Local Fix. What better way to spend your drive time? Interested in sponsoring Last Week in Local? Get in touch with us!
LocalU Advanced – Google My Business Master Class in Atlanta – Local University
Source:

localu.org

Mike: March 25th in Atlanta! The LocalU Advanced Google Master Class has pre agenda pricing until Jan 6th of $599.
---
Mike: Since 2014, U.S. e-commerce has increased by 84%, creating a massive opportunity for the delivery industry. But despite the growing opportunity, FedEx has lost $25 billion in value since Amazon launched its delivery service.
Amazon enters high-friction, low-margin businesses as a means of differentiating low-friction, high-margin businesses (AWS and AMG). In doing so they effectively turn whole industries like delivery into a feature for Amazon Prime.
In a related Business Insider article.  Galloway says that while a likely acquirer of FedEx would be Walmart — making Walmart go more vertical — a bolder move would be an acquisition from Shopify. It could create an actually viable alternative to Amazon
---
Mike: Rather than trying to compete with Amazon in its domain (e-commerce), Walmart will reportedly use its existing stores to provide customers with rapid deliveries and access to goods, as well as experiences they can't order online. Among other things, the company reportedly wants to turn its stores into 'edge computing' centers, transform warehouses into processing and shipping centers for third-party products, and more.
---
Mike: EVERY MINUTE OF EVERY DAY, everywhere on the planet, dozens of companies — largely unregulated, little scrutinized — are logging the movements of tens of millions of people with mobile phones and storing the information in gigantic data files. The Times Privacy Project obtained one such file, by far the largest and most sensitive ever to be reviewed by journalists.
Amazing how much specific information is available on everyday citizens. But the NY Times was even able to de-anonymize location data and track the whereabouts of President Trump in very little time in a related article: How to Track President Trump.
Our collective unwillingness to regulate this industry leads to not just privacy issues but national security issues as well.
---
Mike: If you are in any of the home service industries or even in real estate or the legal industry you should read this article that details all of the ifs, ands or buts of the Google's Local Service Ads.
---
Deep Dive: Review Carousel but So Much more. Meet the Query Carousel! – Local University
Source:

localu.org

Mike: Very cool new feature that shows your (review, Posts, Q & A, product) content for your business in response to local product and service queries.
---
Mary: Last week, I noticed a new format on mobile browsers for service areas. It shows a truck icon and mentions a city the business serves. When you click on it, it lists the other areas the business has put in their service areas in Google My Business. @TomW made us realize this might be dynamic…
---
Mary: @RuthBurr  shares her absolute best tips for getting your Analytics data accurate, consistent, and future-proof in this week's Whiteboard Friday. This is the GA guide you need!
---
Mary: Moz's @ Miriam_Ellis_ shows us how easy it can be to fight back against spammers to benefit your own business and those of your clients.
---
Carrie: Calling out Google's "gamification" of spam. I'm not a fan of this program – it encourages crap reviews, short, unhelpful Q&A answers and in many cases unhelpful images. These Product Experts seem to agree.
---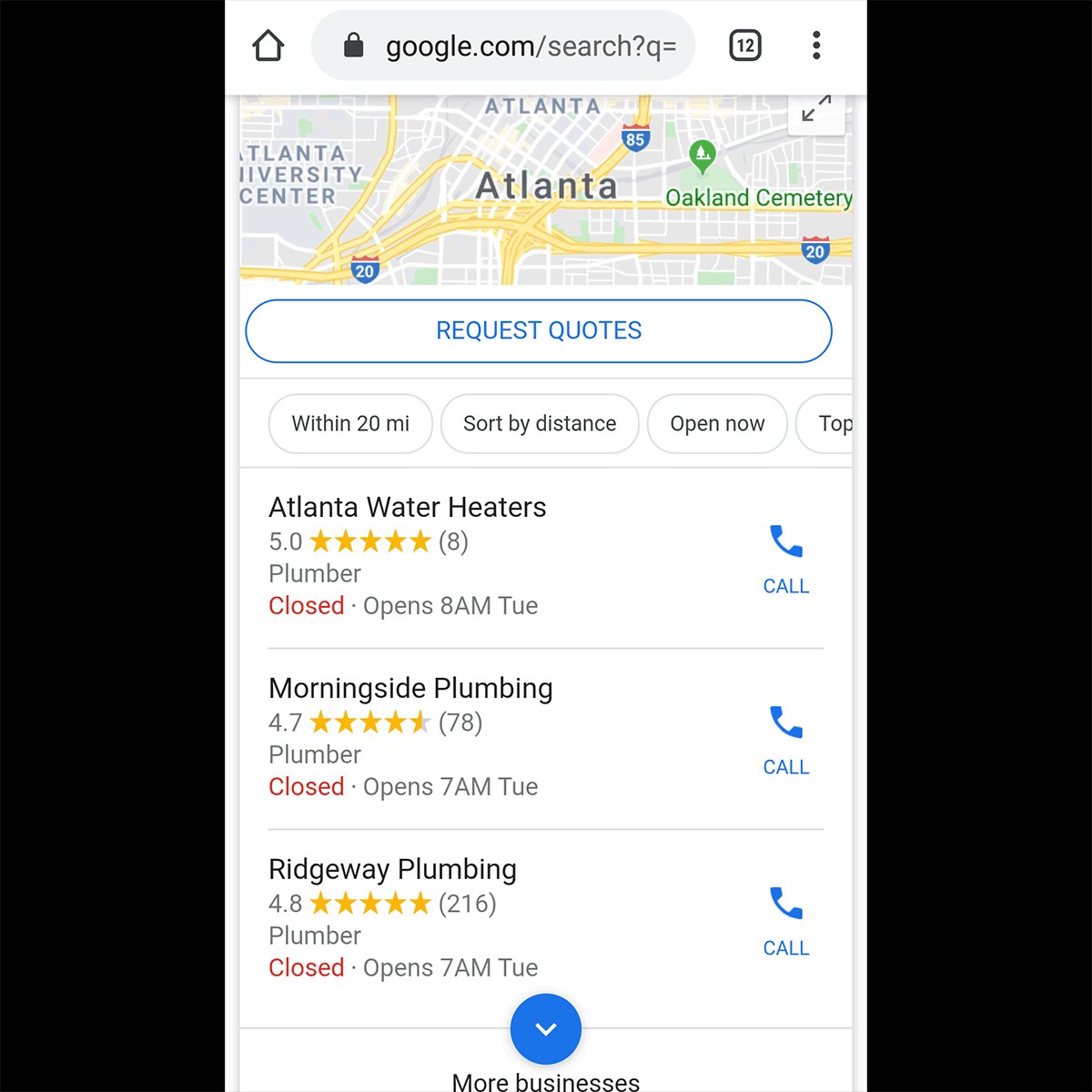 Carrie: Request a quote button showing up in the local pack on mobile. I tried Chrome & Google in Safari and can't recreate
---
Carrie: Neat conversation with David and Mike recapping the last decade in Local Search. Oh how far we have come. Google+ was a total bust – but this got me a bit nostalgic:
"Ten years ago, fewer than 50% of local businesses had a website. And the ones that did provided such an awful experience, particularly on phones, that Google was loath to feature many of them in search results." ~David Mihm
---
What's Popping? 4 Types of Pop-ups You Should Have On Your Website
Carrie: Not local – but a reminder that there are good and bad popups – what kind do you have? Stop annoying your customers.
Want more local SEO tips?
Check out our LocalU event
October 13, 2023 
Toronto/Blue Mountain, ON